Fly Blue Air and book cheap flights from € 15 with eDreams
Discover great deals with eDreams
initSSLPpages
ROUND_TRIP
true
Why book with eDreams
Smart combination of flights
Cheap Blue Air flights
Bucharest
Larnaca
Dublin
London
Cluj-Napoca
The prices shown are only for your reference. They reflect the best prices found through our search engines during the last 5 days and they correspond to one-way flights, or the arithmetic half of return flights for an adult in tourist class, with departure date within the following 45 days from the current date. Prices may be a reflection of connecting flights, secondary airports and unusual hours.
* This Price is based on eDreams search results for flights performed within the next 365 days for this airline. It reflects the cheapest price per route for an adult passenger that can be found in our system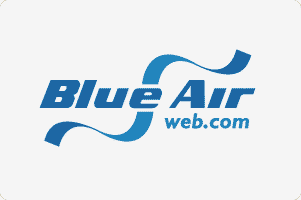 Airline information
This Romanian "low cost" carrier is based in Bucharest, and started operations in 2004 with their domestic Bucharest – Timisoara flight. This route was actually cancelled the following year due to low demand and stiff competition posed by TAROM.
Blue Air (0B) operated with the Boeing 737 aircraft from Bucharest to Cluj Napoca in 2006, and was one of the cheapest flights airlines operating between Bucharest and Romanian cities that year. Later, Wizz Air (W6), Easyjet (U2) and Germanwings (4U), among others, began to operate in Romania too.
Blue Air has among its fleet, the Boeing 737-300, Boeing 737-400, Boeing 737-500, Boeing 737-800 and Boeing 737-900. Blueairweb.com. Book Blue Air flights with eDreams.
Latest Blue Air flight reviews
I had to keep by backpack under the seat in front of me so i didn't had any space left to keep my feets . 2hours delayd

Cristina