Every year, millions of tourists wander the streets of the Eternal city. Follow Céline's trip to Rome to discover tips, places to visit, and even a secret about St Peter's Square!

Ready to depart? Watch her eDreams Travel Guide and start preparing your trip!
Cool Places: Baths of Caracalla
In Rome, there are numerous must-see places! After the obligatory visit to the Roman Forum and the Coliseum, you should visit the Baths of Caracalla. These ancient Roman Baths are not only impressive in terms of size, but also because of the amazing condition they're in. You'll be able to picture yourself taking part in Roman wellness rituals in both the caldarium (the warmest room) and the frigidarium (the coldest baths). Just by looking at the mosaics and statues remains you can imagine how luxurious the baths must have been. Hire a virtual-reality headset to see what the Baths looked like 2000 years ago!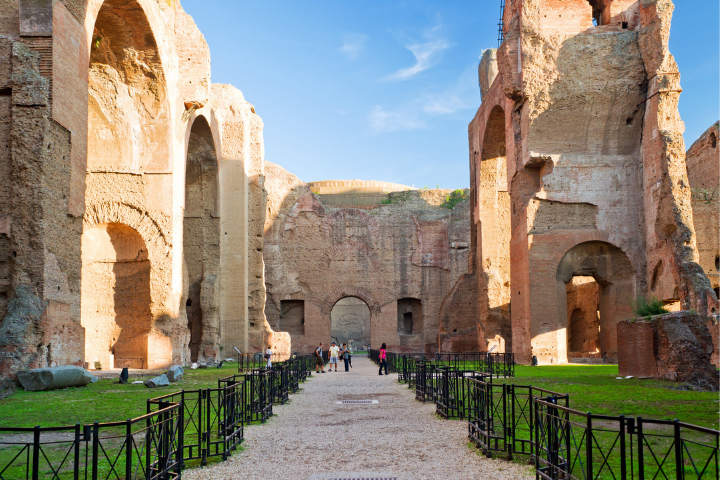 Fun Fact: optical effect in Saint-Peter's square
No trip to Rome is complete without a stop in the smallest country in the world: the Vatican. If you have time, we strongly recommend you visit the Vatican's museums to admire their treasures and even the building itself. The most remarkable work is, without a doubt, the ceiling of the Sistine Chapel, created by Michelangelo.
You can also visit St Peter's Basilica (free of charge) and climb the 551 steps to enjoy one of the most beautiful views of Rome (entrance fee: €6).

Did you know that St-Peter's square hides a secret? Look for a black circle on the floor called Centro del Colonnato, and you'll see an optical effect… The 284 columns of the square will be perfectly aligned.

Useful tips: save time with a pass
Rome is an open-air museum. Walk around the historic district to discover old ruins or be stunned by breathtaking painting in a famous church. But nothing compares to the symbolic monuments of Rome. To save some time and money, you can buy a pass to visit them. Choose the pass that suits you best, depending on the museums you want to visit, or the length of your stay. Most passes include public transport, allowing you to take the bus without wondering where to buy tickets (they are not sold directly on the bus).
With these passes, you can skip the queues: book your visit hours online for the main monuments like the Coliseum and Vatican's museums.