Amsterdam is not just about the coffee shops, the Van Gogh Museum and the Red Light District…
There's so much more to see and discover in the capital of Netherlands! Inscribed on the UNESCO World Heritage list, Amsterdam is full of charming canals, cultural trends, and delightful little streets worth exploring.
We present you with a great and different selection of 25 things to do in Amsterdam that will have you experiencing the city like the locals do…
Leave your travel guide be, you won't be needing it for this trip!
---
Rent a bike for two…
And see the city like the Dutch do!
Tip: Driving a bike in Amsterdam is "serious business". Watch out for other bikers and traffic rules.
---
Take a walk along the Bloemenmarkt
It's a beautiful floating flower market. You'll be seduced by all the colors and smells!
Tip: The Bloemenmarkt flower market is open from Monday to Saturday, from 9:30AM to 5:30PM, and on Sunday from 11:30AM to 5:30PM.
---
Go see a concert at Vondelpark
The city's most famous park, which was built specifically to host concerts.
Tip: There are plenty of free concerts at Vondelpark during the summer.
---
Go shopping at Cuypmarket
It's an incredible outdoor market where you can find anything and everything.
Tip: The market is open from Monday to Saturday, from 9:00AM to 5:00PM.
---
Try Dutch cheese…

At a market stall, at a bar, in a restaurant… Anywhere is the perfect place!
Tip: The "Cafe Van Mechelen" located at Sloterkade 96/97 it's an excellent option to eat (cheese) and try some new beer (or wine).
---
---
Enjoy a classical music concert at Concertgebouw…
Or see one at Spuistraat street!
Tip: There are free concerts at the Concertgebouw, every Wednesdays at 12:30PM.
---
Visit Anne Frank's house
It's a place full of history and emotion!
Tip: Buy the tickets online instead of having to wait in the queues.
---
Pass along the Spiegelstraat Nieuwe…
And satisfy your artistic curiosity by visiting the art galleries in the area.
Tip: The "The Public House of Art", number 29 (of the Spiegelstraat Nieuwe) is a must-visit.
---
Browse the Amsterdam library (Openbare Bibliotheek)
It's a beautiful place and also the biggest in Europe!
Tip: The Openbare Bibliotheek is open everyday from 10:00AM to 10:00PM.
---
Have a typical Dutch brunch…
Made of eggs benedict with Hollandaise sauce.
Tip: Try this brunch at Lovefood dans Koggestraat (Koggestraat 1, 1012)
---
Take a break from the most famous museums…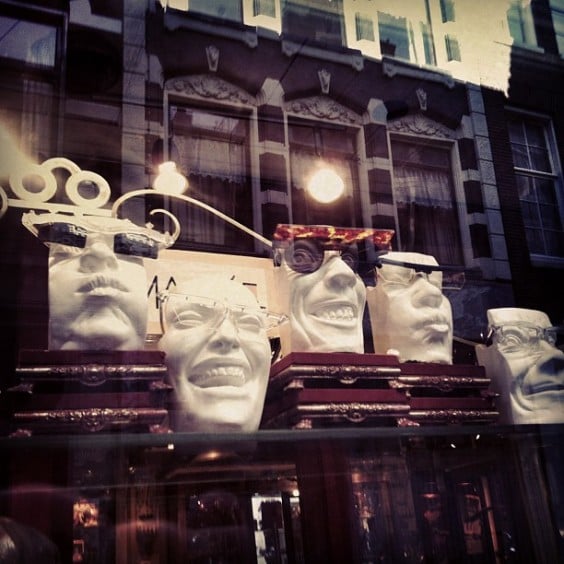 To discover the smaller and more exclusive ones, such as the Tassen Museum of Bags and Purses, Museum of Spectacles, the Coffee and Tea Museum.
---
Stop by a "bruin cafe"
It's the typical Dutch spaces to have a coffee, breakfast, or a good beer.
---
---
Visit the Begijnhof secret garden…
It's hidden behind an enormous door in Spui plaza!
---
Watch a horse show…
At one of the popular riding schools – Hollandsche Manege.
Tip: The Hollandsche Manege is open during the week from 10:00AM to 11:00PM, and on the weekends from 10:00AM to 6:00PM
---
Visit the Zuiderkerk church
And its expositions about urban projects in Amsterdam.
Tip: There are guided tours every 30 minutes from 12:00PM to 3:30PM.
---
Have a cocktail at "Tales and Spirits"
It has recently been named the best bar in Europe!
Tip: The Tales & Spirits bar is open from 5:30PM to 1:00AM from Tuesday to Thursday and on Sunday, and from 5:30PM to 3:00AM on Friday and Saturday,
---
Watch a movie or simply visit the Tuschinski
It's a magnificent Art Deco theater built in 1921
Tip: There are audio tours everyday from 9:30AM to 11:30AM for €10 and it includes coffee or tea.
---
Go to one of the many private parties in the city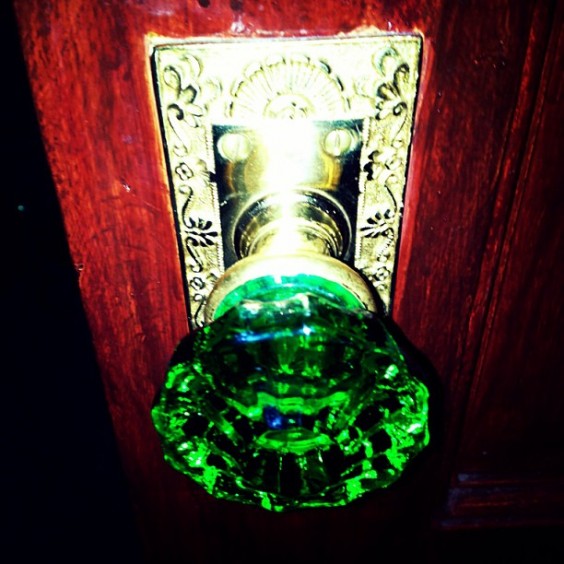 They can be in a garage, barber shop, fast food restaurant… The only problem: figuring out what the password is to get in!
---
---
Rent a sall boat and navigate the Spui river.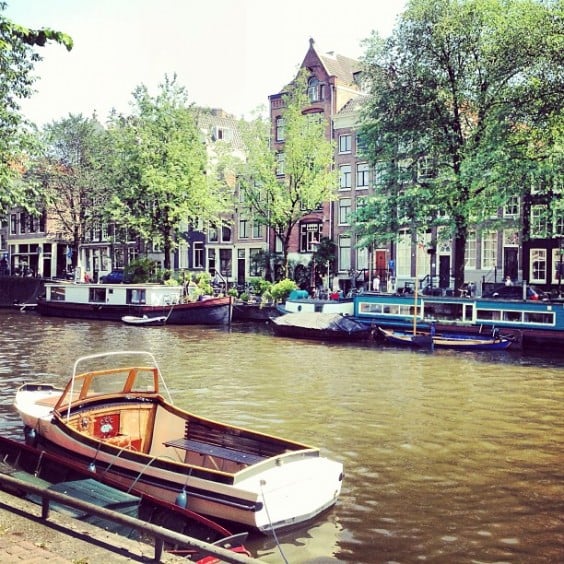 It's one of the best ways to interact and get along with the locals..
---
Stop in front of a Dutch pastry shoppe and give in to the temptation…
We recommend tasting a delicious Stroopwafel which is the most popular pastry from the Netherlands.
---
Buy an original piece at one of the many vintage shops
We suggest going to the Pijp neighborhood.
---
Check out the outskirts of Amsterdam…
And go for a walk around Delft (50km outside of Amsterdam) and see the houses from the 18th century.
---
Have a refreshing beer at the Brouwerij 't IJ (The IJ Brewery) windmill
It will cost you less than €2 and this old windmill still maintains the style of an old brewery.
Tip: Enjoy your beer at the outdoor terrace that is open everyday from 3:00PM to 8:00PM.
---
Buy tulip seeds…
And have a piece of Holland with you at home.
---
And to finish up: go in a coffee shop…
To discover the unique atmosphere!
---
---