Christmas is just around the corner and the holiday spirit has started to spread!
Cities shining bright with Christmas lights and decorations, people singing carols on the streets, festive treats and toys on the shelves of every supermarket and store, and of course, the Christmas markets.
Join us while we embark on a journey across Europe as we introduce you to some of the most magical Christmas markets in the continent.
---
Vienna Christmas Market, Austria
Starting mid-November and up until Christmas, the main squares of Vienna are converted into magical winter wonderlands, where the overwhelming aroma of hot chocolate follows you at every step.
The Christkindlmarkt set up in the Town Hall Square (Rathausplats) is the busiest of them all, and with good reason! Here you can find just about anything you can think of. There are even activities scheduled for the little ones, like baking and candle making.
When: 17 November – 26 December
---
Prague Christmas Market, Czech Republic
The Christmas markets in Prague are among the most charming in Europe. The main ones can be located in the Old Town Square and the Wenceslas Square, but if you prefer the smaller and less hectic markets, we recommend you check out the one in Havel.
At the Czech Christmas markets you can find items ranging from glassware, wooden games, scented candles, handmade jewelry, ceramics, hats, scarves, Christmas trees and even puppets.
When: 1 December – 6 January
---
Munich Christmas Market, Germany
The opening celebration of the Christkindlmarkt at Marienplatz is one of the prettiest ones in Europe.
Here you will be able to find lots of sweets like baked apples, plums with almonds, "Kaiserschmarrn" and sweets fried in lard.
When: 27 November – 24 December
---
Zurich Christmas Market, Switzerland
Zurich has 4 different Christmas markets, but the biggest one is the Zürcher Christkindlmarkt, located in the Central station. It boasts of a gigantic Christmas tree with 700 Swarovski crystals. 
For those looking for a DIY and arts & crafts market, you can head over to Niederdorf. For contemporary art lovers, Europaalle and for those looking to hear Christmas carols, Wedmühleplatz. 
When: 22 November – 23 December
---
Barcelona Christmas Market, Spain
The most popular Christmas market in Barcelona is the Santa Lucia market, which you can find in the Gothic quarter. The little kiosks sell anything from Christmas trees, ornaments, handmade crafts, and specialties like turrón and neules.
You will also come across some unfamiliar figurines like the " caganer " or the "cagatio", both ornaments that cannot miss from the Catalan nativity scene.
When: 30 November – 23 December
---
Florence Christmas Market, Italy
Between lights, decorations and wooden houses, made from the German town of Heidelberg, the market of Piazza Santa Croce, in Florence, offers the opportunity to experience a German Christmas without having to travel to Germany!
Here you can find traditional food like pretzels, Gluhwein (hot spiced wine served) and our favorite, Bavarian beer.
When: 28 November – 20 December
---
Trento Christmas Market, Italy
The Christmas market of Trento is one of the most famous and popular in the Alpine region. Every winter, the Fair Square turns into a magical place, filled with huts selling candy, delicious food, handcrafted trinkets, candles, floral arrangements and other Christmas themed ornaments.
If you still haven't purchased all your Christmas presents, this is definitely the right place to get inspired!
When: 24 November – 6 January
---
Nuremberg Christmas Market, Germany
The Christmas market starts on the first weekend of the advent calendar and they hold a huge grand opening to mark the beginning of Christmas! The market is one of Germany's oldest Christmas fairs and has a long history and tradition.
You'll find unique Christmas toys, Christmas tree ornaments, dolls made of dried plums and cloth (the so-called "Zwetschgenmännle") and spicy desserts typical of the city ("Lebkuchen").
When: 30 November – 24 December
---
Dresden Christmas Market, Germany
Germany is renowned for its Christmas markets. Every year, millions of people from all over the world visit the country weeks before Christmas just to see them. The Strizelmarkt in Dresden, whose origins date back to 1434, is one of the oldest and most famous markets in Europe. Located in the Altmarkt square, this market is made up of over 250 huts where you can purchase anything from traditional food and drinks to handmade festive trinkets and other souvenirs.
If you have the opportunity to visit Dresden this time of year, spend an hour perusing the stands. And whatever you do, don't forget to try a piece of their traditional Christmas cake known as the "Stollen".
When: 28 November – 24 December
---
Valkenburg Christmas Market, the Netherlands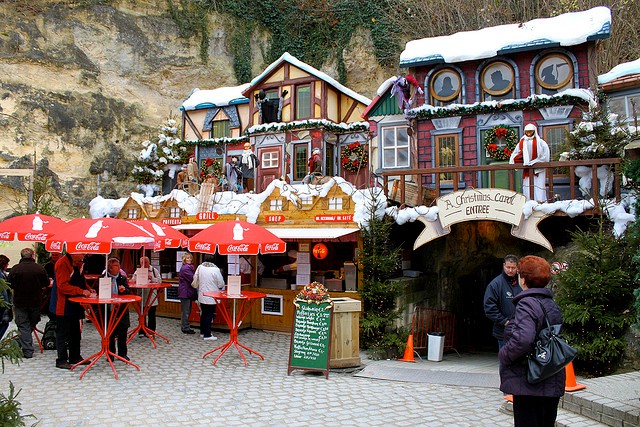 The Christmas market in Valkenburg, located relatively close to Maastricht, is one of the most original ones we've come across. Why, you ask? Because it's inside a cave!
The city also organizes a number of Christmas themed activities, walks and parades every Wednesday and Saturday.
When: 16 November – 23 December
---
Strasbourg Christmas Market, France
Ever since 1570, the city of Strasbourg in France has been organizing its grand Christkindelsmärik, a Christmas market that has grown in size and popularity with each passing year. Although extending to neighboring villages, the area around the city's cathedral remains the heart of the market. Here you can spot a labyrinth of tiny German wooden houses selling all sorts of festive goods and local products.
Don't leave before drinking some mulled wine and trying a piece of flambee cake (flammkuchen), a traditional savory dish from the Alsace region.
When: 23 November – 30 December
---
Which Christmas market would you love to visit? And if you've already seen a few, which ones were your favorites? 
---
---